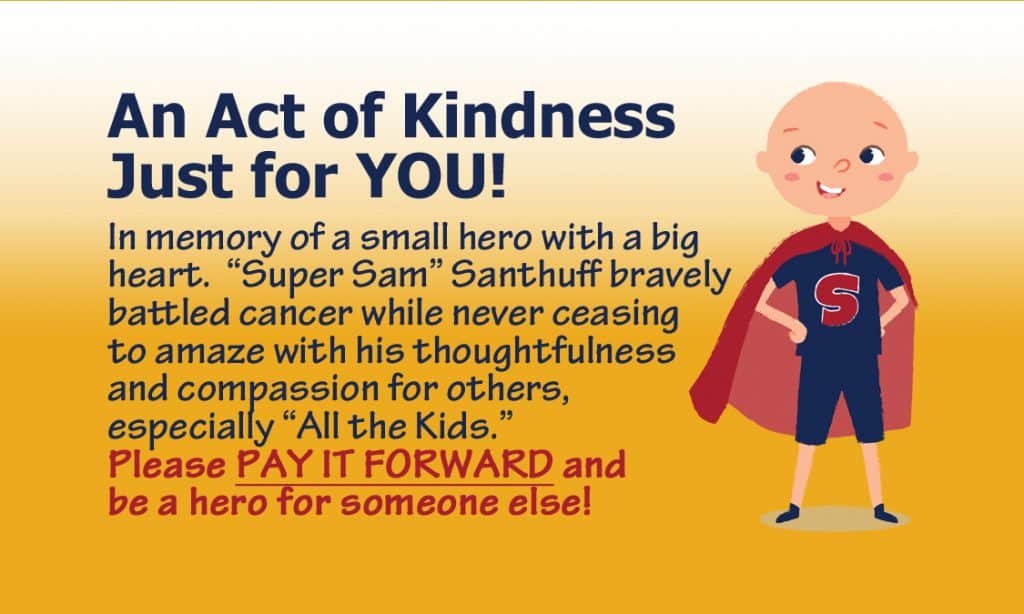 Sam was always thinking of others, rather he was praying for the child in the next hospital room over, wanting to help the homeless man begging for change at the stop light, trying to be courageous for his nursing team and family throughout the fight, or brainstorming ideas such as the comfort pack to brighten a child's day.
Help us spread kindness and share our mission by doing an act of kindness and sharing our mission by leaving a card. (Image of Kindness Card)
CONTACT SSF TO GET INVOLVED –
Corporate Sponsorship/Payroll Deduction
PFSbrands/Champs Chicken Employee Owners
Three years ago the Employee Owners, with the guidance of founders Shawn and Julie Burcham, became the first business to offer employees payroll deductions. But they didn't stop there! The Employee Owners have stepped up in huge ways to help build SSF. From Stacey Schroeder-Laughlin's help with design, the Print Shop's dedication to quality and saving precious funds for our mission, to the dozens of volunteers who have helped with all of our events, this massive boost of support has helped launch our support for more research funding, more advocacy, more packs, and increased awareness.
---
Equipment Share owners Jabbock and Danielle stepped up in a huge way this year, gifting the Super Sam Foundation with our beautiful new trailer! They are providing tremendous financial support to the Foundation and plan to do so for many years to come. Their sponsorship is an incredible gift and we are so grateful to have them in the fight with us!
---
Dollar General
The Dollar General Distribution Center in Fulton, Missouri began their support for the Super Sam Foundation by donating 100 comfort packs during our first ever Super Sam Comfort Pack Drive. Since then, they continue to sponsor ALL local events, partner with us on special projects, participate in blood drives, volunteer at local events, and so much more.
---
Fulton, MO – Shawn & Tina Edgar
Shawn and Tina Edgar began dedicating each Friday as "Super Sam Friday" shortly after Sam began traveling for treatment on what came to be known as Chemo Friday. This special couple are a staple in the Super Sam Foundation.
---
Capital Cornhole – Matt & Kate Koch
Matt and Kate Koch of Capital Cornhole are responsible for launching our first official fundraising efforts with the Toss OUT Cancer Cornhole Tournament. From shaving his head annually to spreading awareness wherever he goes, Matt also seeks out opportunities where he and Kate can impact growth for the Super Sam Foundation. The annual tournament has evolved in many ways over the last five years, but the best addition to the tournament and this family-focused team was the addition of their smiling daughter Rosie.
---
First Christian Church – Fulton, MO
First Christian Church of Fulton, Missouri, is family to the Super Sam Foundation. This tight-knit, loving congregation supported every wish of the little boy who was quick to raise his hand during the children's moment and who would profess "I have a prayer!" The entire congregation rallied to provide meals, fundraisers, prayer vigils, group support, pack items, and even rang bells together. When the Super Sam Foundation grew too large to house their supplies privately, First Christian Church gifted the space needed, becoming the official home of the Super Sam Foundation. While First Christian is certainly known for their powerful work with many wonderful groups, wait until you try their famous pies! (Lucky for you, they are up for auction!)
---
The Krystal Stegemann Agency, LLC with American Family Insurance
Krystal and her trio of a team are the definition of dedication. We know that when Krystal calls and says "I have this idea.." we are in for a community-building, out-of-the-box look at raising awareness and fundraising. From her Stinky Fish Challenges to the powerful Post-It of Positivity Project, there is nothing Krystal wouldn't do to support the fight against childhood cancer. Krystal "gets it" and knows she can make a difference. She and her team believe in research and know their facts! They put the fun in FUNdraising! It is safe to say that Krystal is full of energy and enthusiasm. She brings positivity and joy to all she does!
---
Sara and her husband Keith have shown their unwavering dedication in countless ways to Sam, Gabriel, and All the Kids over the last five years. Sara has shown her passion for helping kids and their families. From spearheading the Super Sam Playground Project to planning special surprises for the Polston Family to #LiveLikeCrazyToday, Sara even shows her support by donating 10% of her brokerage commissions year-round to the Super Sam Foundation! This support has been vital to our growth and ability to make a difference – together!